Those following me on twitter would have been sick to death of hearing me talk about it but the Aussie Dell Storage Forum (DSF) has come and gone and it was a bloody good day .. very long, but good. It was the best opportunity we have had to showcase Dell's growing storage solutions and portfolio in Australia and the feedback so far has been very positive :).
Imma let me keep this post short, but @PenguinPunk has one of the best event overviews of all time (cause it saves me lots of time)
The keynote was the same style as the Boston DSF with the whiteboard and talking about where Fluid Data is heading, especially around Fluid Cache and AppAssure. It was a bit different to Carter George's slow and steady wins the race style Brett Roscoe lead it well and was really funny. The room was so packed that I heard there were 50 – 80 people outside the room watching on the big screen.
There there were four main session tracks, Compellent, EqualLogic, Powervault and "everything else" :). I was in the everything else stream presenting the first two AppAssure sessions with Andrew Diamond. I was handling the live demo .. yes .. live demo, danger, and it was running on the worlds largest laptop – a  Precision M6700 – it had more guts than my R710 PowerEdge server but after lugging it around for two days I am now an inch and a half shorter (In height, mind out of gutter please). It all went well and no one asked me to repeat myself because of mumbling so I consider that a win!
For those who don't know Andrew, I am like the Robin to his Batman for Dell Storage in Queensland and NT … because being from QLD, we love hanging out in our undies (thanks Dave). Not a whole lot that boy doesn't know. I help him out with things like cranking up the the twitter machine and which meme is appropriate where
On the floor was where most of the action was with two racks full of kit and a bunch of the storage specialists answering questions and doing live demos. It had a bunch of new kit including:
The new EQL M4110 blade
SC8000 Compellent array
FS8600 Compellent FluidFS NAS box
The 60 drive "RoadKing" PowerVault MD3 array
Lunch for the masses apparently was good, I got to have fancy lunch with all the media dudes because I am a "blogger". I think I'm going to rock up to other tech or fashion shows and say "I'm a blogger, food please". One feedback I had about the public lunch was that the salmon was the driest they had ever eaten. I just assumed there was a salmon walking around cracking jokes like:
What are the two sexiest animals in the barn yard? "Brown chicken brown cow".
So some stats if you care:
411 customers, 4 were mine
31 breakout sessions, 23 hours of content and 19 speakers and 1 sub woofa mate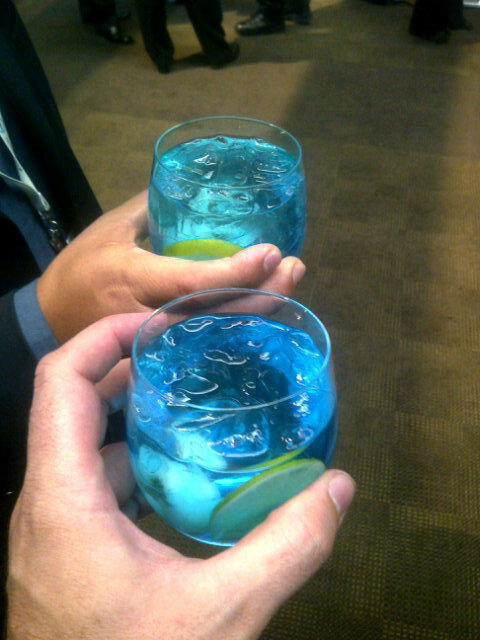 We topped it off with a few tasty beverages at the end of the day including these blue Fluid Cocktails – they had some kick – and Prinnie from the Voice singing some tunes, the girl can sing.
It doesn't just stop there, here is a list of all the sessions that were run during the day. If there is something that interests you and you want to find out more about it, contact your Dell sales team and we'll help you out. If you're not currently a customer all good, either contact me through the blog or on twitter and we can go from there. Don't forget to ask about DPACK assessment as well.
One of the highlights of the day is that this tweet made it on the big board
Finally, here are a few photos from the day on Facebook.
The day was a great success and was exceptionally run, I can't wait for next year, it will be huge.